Hurricane Insurance Claims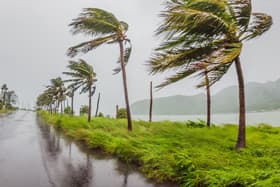 Hurricane season brings so much more with it than simply a few bad weather reports. It also brings fear, bated breath, and a sigh of relief when it is over. For those living in areas that are more prone to suffering from the effects of a hurricane, the thought of making hurricane insurance claims only adds to the worry.
At Claims Adjusters, we are experts when it comes to filing your insurance claims and we can help you through every step in the process. For more information about our hurricane insurance claims adjuster services, please give us a call at 636-387-1479. Find out why we are the insurance adjuster with hurricane expertise that will make all the difference during a difficult time.
Hurricane Insurance Claims Adjuster Serving Florida, Georgia, South Carolina, North Carolina, and Texas
The path of a hurricane is never certain. The only thing that is certain is the devastation that is left behind. Even lower category hurricanes can cause serious damage to our homes and properties. Many people do not realize the impact that just a Category 1 hurricane can have, but even these wind speeds, and the flooding that comes along with it, can wreak havoc. Consider the following hurricane classification numbers.
Hurricane categories and wind speeds:
Category 1 hurricane: Sustained winds 74-95 mph
Category 2 hurricane: Sustained winds 96-110 mph
Category 3 hurricane: Sustained winds 111-130 mph
Category 4 hurricane: Sustained winds 131-155 mph
Category 5 hurricane: Sustained winds greater than 155 mph
After a hurricane hits, people victim to the storm are left feeling frustrated and lost, if not in shock. Knowing how to start putting everything back together seems like an impossible step, especially when there are so many things to consider. When it comes to focusing on any property damage that you incurred, having a professional adjuster help put your hurricane insurance claim together can be like finding the light at the end of the tunnel.
Why Choose Us to Stand Next to You During Hurricane Season?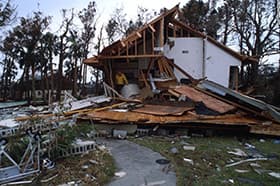 When a hurricane hits, you want an adjuster that will help you with your hurricane insurance claim at a time you need support the most. At Claims Adjusters, we are hurricane insurance claim experts who will help you through the process so that you can focus on picking up the pieces rather than worrying about filing the details. At a time when insurance companies are evermore particular about the claims they approve, having a professional hurricane insurance claims adjuster can take the added weight off your shoulders, helping you through the whole process. From the initial preparation, down to the filing, we will make sure every piece of information you will need for your claim will be included. Our job is to help you, not the insurance company. Knowing that means you will know whose interest we have at heart.
Learn More About Our Hurricane Claims Adjuster Services
For more information about the services we can provide as a hurricane insurance claims adjuster, call us at 636-387-1479. From Florida, to Georgia, South Carolina, North Carolina, and Texas, we hope to be able to assist your family or business during its time of need. We understand you will likely have questions, and we are happy to help you with the answers.

Construction Management
Business Income Loss Due to COVID-19?
Learn what your policy covers

Public Adjuster Services
Claims Adjusters, Inc.
a Subsidiary of
Todd K. Fischer P.A., Inc.

National Producer Number
7184349
MO License Number
PC 8016451
PA 305117
CO License Number
498581
FL License Number
W033228
GA License Number
3055917
IL License Number
7184349
MN License Number
40608752
NC License Number
7184349
SC License Number
7184349
TX License Number
1582175
Fischer C.M.
Construction Management
National: 800-259-0913
Phone: 636-387-1479
Fax: 636-387-1392